Hinged Swing Gates from Flooding Solutions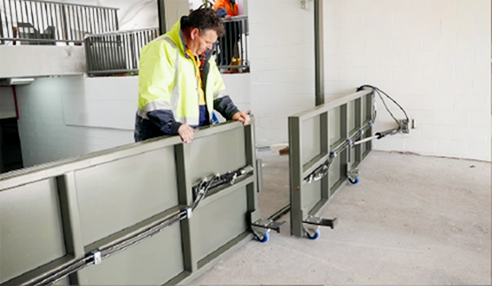 Flooding Solutions offer the maximum protection from floodwaters with their Hinged Swing Gates. The self-closing versions can easily secure driveways and other building openings with their state-of-the-art motorised activation.
The Hinged Swing Gate uses floodwater to activate closure before the water crosses the entry threshold. Operational safety is built into the Hinged Swing Gates' system via audible and visual pre-deployment alarms. The Hinged Swing Gates can be installed with sensors that can be used to identify entrance obstructions and prevent barriers from deploying. And to ensure that the flood protection device runs smoothly throughout the course of the flood, the team at Flooding Solutions have developed a fail-safe Uninterrupted Power Supply system which isolates the barrier from mains failure. 24-volt batteries on permanent charge supply the power for this system.
What are Hinged Swing Gates from Flooding Solutions Made Of?
Ideal for vehicle entrances like garages and parkways, Hinged Swing Gates by Flooding Solutions are available in single or double leaf. This allows the barrier to be fully adjustable to the width of the opening. With barrier support frames made with heavy duty BLUE STEEL, prepared for corrosion protection by sand blasting prior to application of industrial quality system paint. This product is packed with durability.