House Insulation Benefits from Solartex Insulation Solutions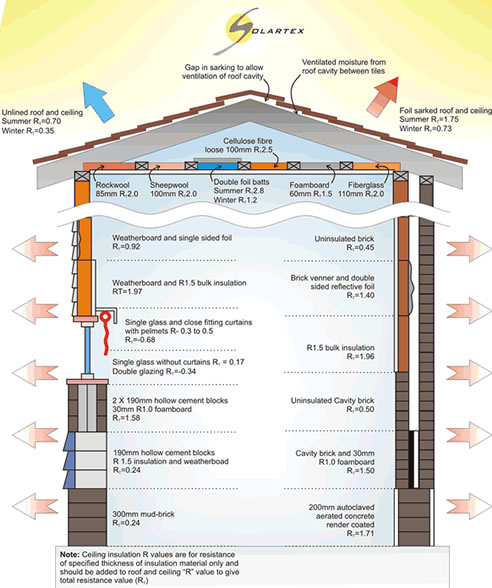 Typical 'RT' values. The higher 'RT' rating indicates higher thermal efficiency
How Insulation Works
Insulation is essential to keeping your home warm in winter and cool in summer. A well insulated home is up to 10 degrees warmer in winter and up to 7 degrees cooler in summer and can save as much as $300 per year in reduced energy costs. In addition, when you use less energy in your home, you reduce the amount of pollution in the air and so help conserve our precious energy resources.
Insulation provides a barrier to heat flow into and out of your home. In summer, insulation reduces the amount of heat entering through walls and ceilings, keeping rooms cooler. In winter, insulation helps to keep warmth inside your home.
Types of Insulation There are two types of insulation products that work in different ways: Bulk insulation works by trapping pockets of still air within its structure. This air provides a barrier or resistance to heat flow.
Reflective insulation works by reflecting heat away from its highly reflective aluminium foil surface. To work effectively, reflective insulation must face a still airspace of at least 25mm
Where to Insulate
Insulation should be installed in:
Ceilings - saving 20% to 40% on heating and cooling costs.
Roofs - Unsarked tile roofs allow a massive amount of radiant heat into roof cavities and rooms.
External Walls - saving an additional 10% to 60% on energy costs.
Internal walls - Acoustic Insulation. Sound transmission
Under Floors - saving another 5% to 20% on energy costs.
Between Floors - Acoustic Insulation.
Existing homes can easily have insulation installed in the ceiling and under timber floors if crawl space is available. External walls can be insulated during re-cladding or re-plastering.