Sub-Floor Ventilation Solutions Sydney by Solartex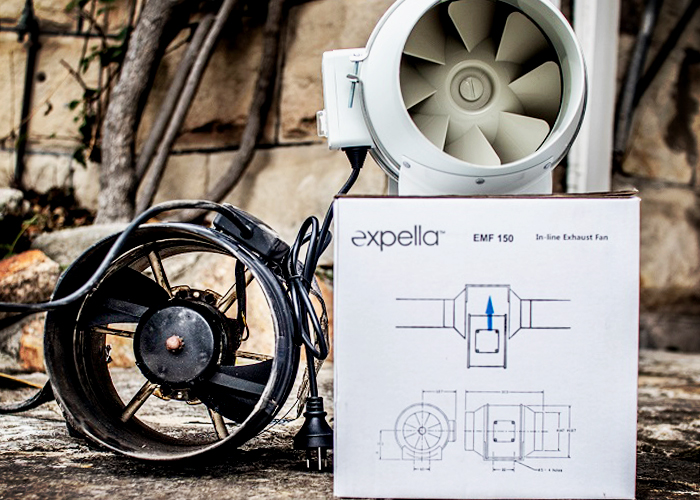 Solartex advises and installs mechanical exhaust products and systems, offering unique ventilation kits specifically targeting mould and moisture issues in the family home. Without effective ventilation systems, moisture within a home can become trapped and eventually lead to structural damage and health issues. Left untreated, the moisture can be absorbed by the building foundations leading to rotting joists, white ants, and warping of timber floors.
Ventilation Kits - Keep Your Home Fresh and Odourless
An average family produces about 10 litres of moisture a day from the following daily activities:
Cooking
Showering
Washing dishes
Laundry
Without effective ventilation, moisture levels will compound and increase risk of condensation, mould, structural damage, and unpleasant odours.
Solartex Sub-floor Ventilation - Quiet to Run
Our experience ensures we provide consistent service and quality products for our customers. Solartex supplies and installs a unique Sub-floor Ventilation Kit that silently extracts the damp/stale air from under the house reducing structural risks caused by osmosis.
Did you know that stale air has higher levels of carbon dioxide and carbon monoxide than outside air which can accelerate the spread of germs and harbour unpleasant odour?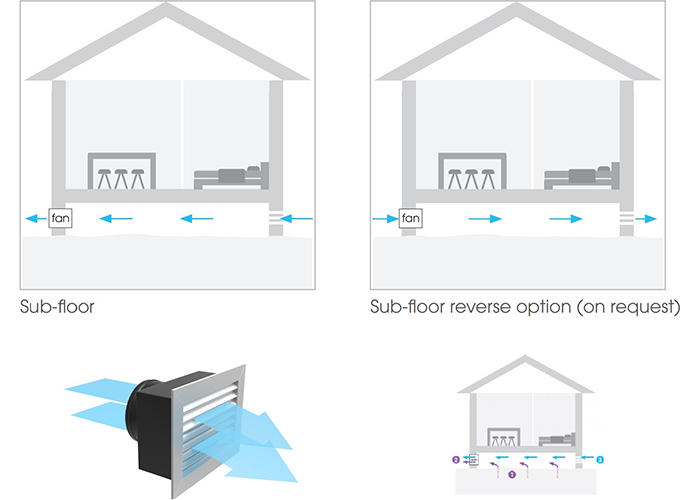 Budget Solutions
By using one or multiple low voltage sub floor fans installed by our trained technicians air is drawn through the sub floor zone. It may involve covering some external wall vents near the fans to prevent a short circuit of air flow. The Sub Floor Kit quietly extracts damp air from under the house minimising risk of damage from rot, mould, and termites. Designed and manufactured in Australia, it is energy efficient and quiet to run.
Exhaust Capacity is 238 m³/hr. Powered by an In-wall box fan 12volt. 3 year warranty. 66 litres per second air flow.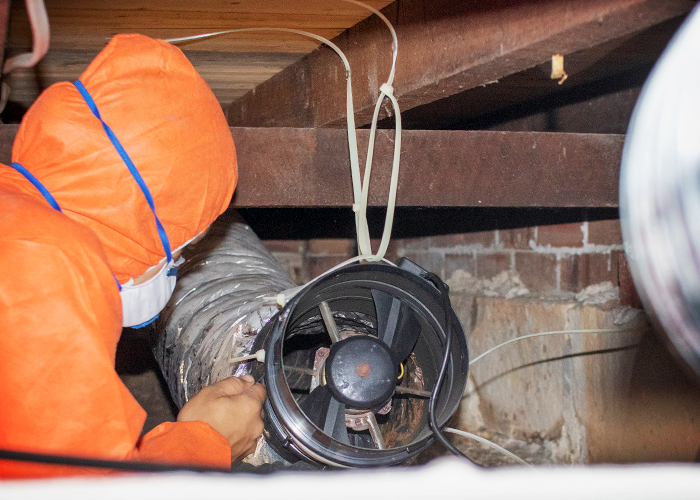 Ducted Solutions
Our ducted systems, use single or multiple inline fans with 4 zero flexible ducting. This system is used for larger and more complex sub-floor layouts. The main benefit is that you can run the duct into multiple subfloor room dead spots. This system uses a 24 hour 7 day digital time controller to regulate off-on time use of fans.
Exhaust Capacity is 530 m³/hr. Powered by an 2 speed EMF150 fan. 3 year warranty. 147 litres per second air flow.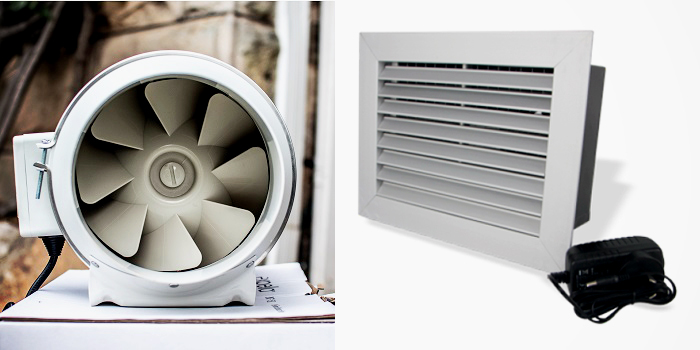 Premium Solutions
This system is the same as the ducted solution above. This system uses the inline fan with rigid PVC pipe duct suppling the 150mm/100mm diameter take offs. Rigid PVC piping is more durable in moist and wet environments and is designed to last. PVC has great air flow characteristics and again you can run it to dead spots in the subfloor. A combination of PVC and flex is used for difficult subfloor zones.
The benefit of our inline fans is that they have a high and low speed switch.
For more information regarding Sub-Floor Ventilation Solutions by Solartex, visit www.solartex.com.au.