QuietStuf thermal batts by Solartex Insulation Solutions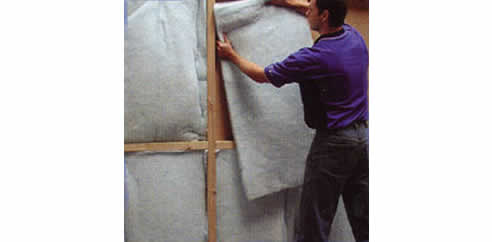 A complete range of non-allergenic, non-itch acoustic and thermal batts. Excellent heat, cold and noise control. Avaiable in pad and roll form, and foil laminated blanket.
Noise control in buildings is becoming very important for our health and well being. Autex QuietStuf® insulation is designed to greatly reduce unwanted stressful sound and noise in your home or commercial environment. QuietStuf® reduces airborne sound, impact noise and noise transmission between rooms, midfloor cavities and external sources.
QuietStuf® 75 with an NRC rating of 0.85 is a high density polyester batt with excellent noise reduction characteristics for use in internal walls with a 75mm cavity. QuietStuf® 75 is ideal for use in kids rooms, home theatres and bathrooms. QuietStuf® 75 can provide a thermal rating of R1.5.
QuietStuf® 90 with an NRC rating of 0.95 is an enhanced noise control batt for applications in external walls of buildings where a 90mm cavity is available. QuietStuf® 90 greatly reduces road, industrial and aircraft noise. QuietStuf® 90 can provide a thermal rating of R2.0.
QuietStuf® 100 with an NRC rating of 1.00 is the high end noise control solution where a 100mm cavity is available. Perfect for reducing noise transmission between floors or where extra protection is required. QuietStuf® 100 can provide a thermal rating of R2.5.