Drop Down Barrier by Flooding Solutions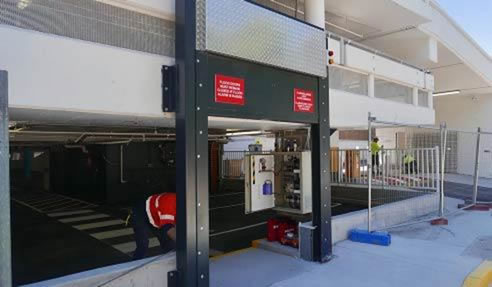 The Automated Drop Down barrier is one of the flagship products from Flooding Solutions. In their ongoing development of innovative products to protect property, the New South Wales-based company continues to be at the forefront of flood defence technology within the building and construction industry in Australia.
What is the Automated Drop Down barrier?
Most automated flood barriers are installed via housing pits in the ground, from which they rise up on the occasion of flooding. However, some applications have limited spaces or physical obstructions on location, prohibiting below ground installations in both new developments and existing properties. To address this situation, the Flooding Solutions channeled years of expertise into the design of the Automated Drop Down Barrier.
The Automated Drop Down Barrier captures floodwater and seals building openings, much in the same way as other self-closing flood barriers do, but with a different mechanism by which it delivers flood protection. This flood barrier descends from above building openings, eliminating the need for of in-ground housing pits. With the Automated Drop Down, specifiers can secure warehouses, loading docks or other wide entrances such a car park entries.
The Automated Drop Down barrier is a self-closing device for instantaneous flood protection with no manpower required. The barrier panel is lowered into position by an electric motor, activated either by the floodwater itself, or at the push of a button on the control panel. It can also be activated remotely through a handy function on mobile phones. The self-closing deployment of the Automated Drop Down ensures streamlined flood protection, saving on time in preparation for the duration and aftermath of the weather event. In addition, it allows for easy and effective performance testing and maintenance inspection of the flood defence system.