Ramp Warning Indicators on Entry Ramp from DTAC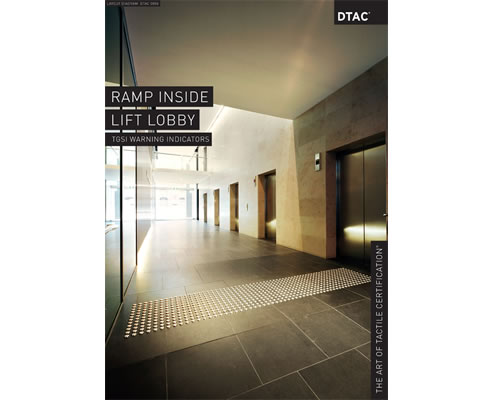 121 King William Street
On entry to the building, a set of glass automatic doors is presented to the user prior to ascending up an access ramp, with a less than 1 in 14 gradient, to the lift lobby. The ramp was installed instead of a staircase to give good access to the visually and physically impaired, as well as the general public.
A series of warning tactile ground surface indicators (TGSI's) were installed 300mm back from the start and finish of the ramp. These were installed at a depth of 600mm across the entire width of the accessible path of travel.
As no handrails are installed on either side of the ramp, the TGSI's extend right across the width of the opening (i.e., wall to wall). The width of the TGSI area could have been reduced if there were handrails installed, which would have given greater access to other persons who require a rail to assist with their mobility.