High Quality Fixed Louvres from Louvreclad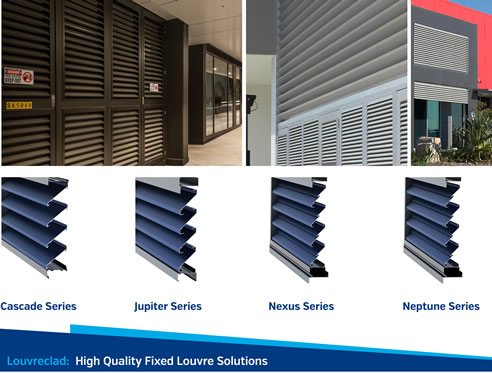 All our products are backed by long term warranties for absolute peace of mind!
YES - 100% Australia made
YES - 100% Asbestos free
YES - Non-composite
YES - Non-combustible
YES - Non-flammable
Louvreclad specialise in providing our clients with a complete range of fixed louvres for all industrial applications.
Louvreclad's Cascade Series® is the best choice when maximum airflow is desired. A medium sized louvre which has a 64% open air space, allowing maximum airflow and ventilation whilst protecting from wind & rain.
The Jupiter Series® Standard Louvre is ideal for commercial buildings or in applications where high quality general louvres are required. It is suitable for general purpose plant room louvres, air intake louvres, exhaust louvres and and plant deck louvres.