Lighting Design and Control with Gerard Lighting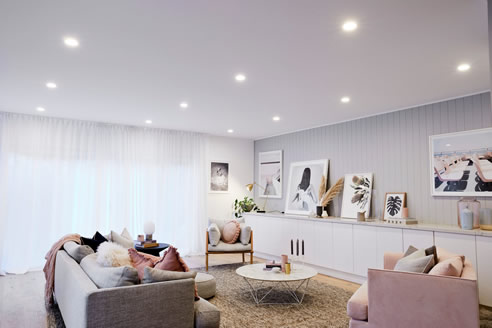 Lighting design for the perfect family home
A dated 1920s Californian Bungalow, located in Glen Iris, Victoria, has been transformed into a Nordic inspired, blush-toned wonderland, in five short months. The norsuHOME, built by Nat from norsu Interiors and her husband Dan, is a family home that exudes visual design and practicality, whilst meeting the needs of a young family.
When it comes to lighting plans and design, Nat from norsu worked closely with Gerard Lighting to find the perfect balance between architectural design and practical application for family living. "Lighting shouldn't be seen as just a mere necessity; instead it's an important design process in achieving the overall mood and feeling of a home," says Nat.
"Gerard Lighting's extensive range and their expert advice enabled us to create a carefully thought out lighting plan that met all of our objectives," continues Nat.
Starting with interior lighting, it's important to create a signature statement about your individual style with a carefully curated range of feature lighting. The home features Pierlite Litelux Opticolour LED Downlights, which have the ability to change colour temperature when dimmed and Pierlite Astara Real Ambient Sunset Dim LED Downlights, allowing the user to "colour shift" the light output for a balance between visual comfort and ambience.