DTAC - Tactiles, Stair Treads & Edging Solutions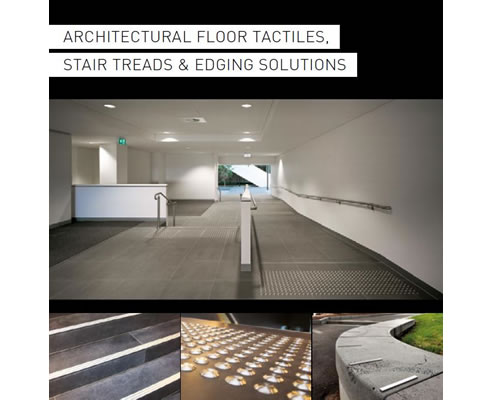 DTAC pioneered architectural Tactile Ground Surface Indicators (TGSI's) in Australia and continue to deliver the most aesthetic NCC-BCA compliant solutions available. DTAC also offer a range of stair treads including products suitable for carpet as well as edge protection and vandalism protection products.
DTAC's extensive range of tactiles are available in a variety of designs and colours and are designed to comply with building codes and regulations ensuring DTAC has a solution to suit all applications. Both discrete and integrated installation methods can be used for both warning and directional tactiles that are tested for compliance with luminance and slip resistance requirements.
The range of stair treads and edging has transformed the manner in which you can detail a stair edge, nosing or connection. Completely retro-fittable, the DTAC edging series provides a practical and aesthetically pleasing approach to prevention and protection. With several designs and finishes available, the range of stair edging provides a flawless finish with compliant solutions to detailing a stair edge.
DTAC are a vertically integrated business that designs, installs and maintains their products to the exacting codes and standards of the applicable regulatory body. They have a team of trained personnel all of whom are experienced in the requirements of the relevant standards and codes.
DTAC can help:
- Interpret and apply the relevant standards and codes applicable to your project
- Design a solution to your project requirements
- Manufacture and install products on site
The DTAC Difference
When using DTAC products and services, you can be assured that:
Products and solutions are designed to meet or even exceed certification and Australian and NewZealand Standards requirements

Consultative support including layout and compliance services are provided throughout the life of the project including NCC-BCA interpretation

DTAC manage the entire project from design and manufacturing to installation using our team of accredited professionals

DTAC strive for excellence in design and craftsmanship but also back their products by warranty

DTAC is part of the Raven group of companies ensuring the highest quality products and services
If you have any questions in relation to the DTAC range, DTAC is ready and able to assist you in getting it right. We can help interpret and apply the relevant standards and codes and design, manufacture and install solutions to your project requirements. Visit our website www.dtac.com.au for more information and to view dozen of iconic projects from across the country. To contact us, email a DTAC representative at sales@dtac.com.au or for a friendly voice you can call 1300 793 478.