Motorised External Blinds for UV Control Sydney from Verosol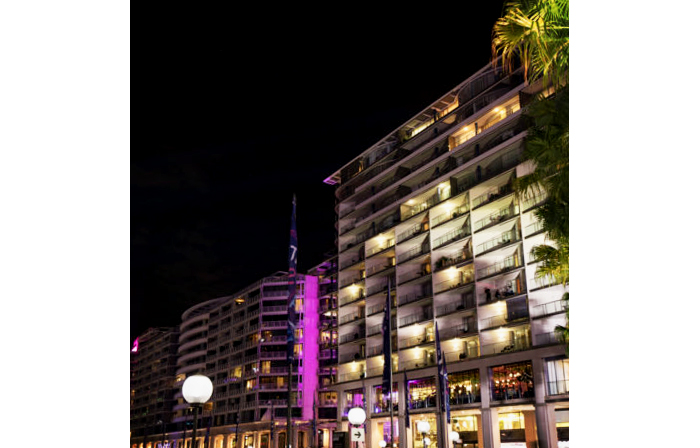 Bennelong, 5 Macquarie Street, Sydney (The Toaster Building)
Type of Building: Multiple Density.
Project Location: Bennelong, 5 Macquarie Street, Sydney (The Toaster Building), NSW.
Architect: Andrew Andersons and PTW Architects.
Product Type: Motorisation.
Product System: Remote Control & Switch Operation.
Fabric: 205 Silverscreen Semi Transparent.
Colour: Black.
The Bennelong Apartments, commonly referred to as The Toaster Building, is one of Sydney's most iconic and instantaneously recognised complexes. Consisting of three individual buildings, the complex required high-quality blinds which could be used to maintain the privacy of the tenants, while still allowing them to enjoy the vibrant day views and vivid lights of the night life that can be seen from the building.
Benefits of Verosol
The premium Mode Roller - chain operated system offered with Silverscreen 205, allowed the occupants to freely control the view from their windows. The unique properties of Silverscreen 205 with its 4% openness and 6% VLT, offers an unparallelled view through to this breath taking scene. Silverscreen, with its 78% solar reflectance outside offers the highest performance in the market. Additionally, to fulfil the client's main concern - the 4% UV control completed the solution for this building. This is, therefore, an energy efficient solution for the occupants to enjoy both privacy and the spectacular harbour views, while controlling heat, glare, and UV.
For more information regarding Motorised External Blinds for UV Control Sydney from Verosol, visit www.verosol.com.au.