Environment Minister's First Address at Australian Sustainability Conference

New Environment Minister's first address will be at the Australian Sustainability Conference and Exhibition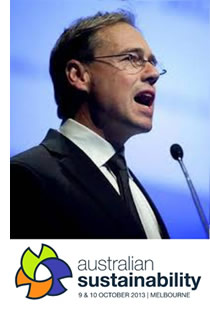 In his first major address on the Abbott Government's environment agenda, the Hon. Greg Hunt will speak at the Australian Sustainability Conference and Exhibition. Mr Hunt will provide the opening address on 9 October and will speak on the theme of turning vision to action.
The Australian Sustainability Conference and Exhibition brings together leading practitioners and strategic thinkers from around the world in this growing industry to explore and share ideas to spearhead sound sustainable business strategy.
Key speakers will include Jochen Zeitz former Chairman and CEO of Puma, Amanda Keogh, Head of Sustainability - International Business Group, Fuji Xerox Asia Pacific & Australia, Phillip Kong Managing Consultant - HP Green Practice Global Lead, Hewlett Packard Australia, and Jason Robertson, Environment & Sustainability Manager - Retail Services, David Jones Limited.
Other speakers include representatives from IKEA, Qantas, DuPont, GE, BlueScope Steel, Sustainable Business Australia, Medibank, KPMG, Toyota, ANZ and Lend Lease.
View the full conference program here or register here to attend.
For those interested in sponsorship and exhibiting contact Sales Manager Guy Freebody on 02 9422 2568 or via email.