Concertina Foil Batts Sydney from Solartex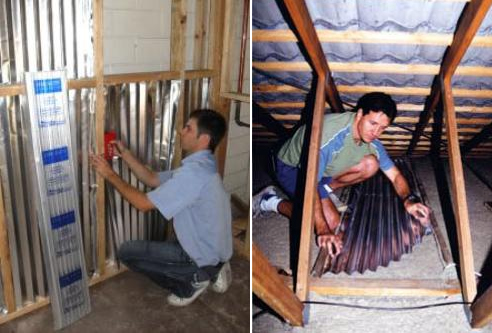 The NSW Government Agency for land development is known as Landcom and they are committed to providing affordable energy efficient and environmentally friendly housing.
The Landcom Energy Efficient Home is at Ferraby Drive at Melaleuca Estate, Metford in the Hunter Valley of NSW and is the showcase for energy efficient living.
The Sustainable Energy Development Authority (SEDA) and Maitland City Council have supported the Project.
In November 1998 Landcom enlisted the support of Maitland council and instigated a competition for the design of an Affordable Energy Efficient and Environmentally Friendly Home that complied with the five star energy rating.
The competition was won by Newcastle architect Mr Glen Spicer of EJE architects. Project home builder Jones Homes was engaged to construct the house.
Energy Saving Features:
The Northerly orientation of the home maximises natural light, and louver windows assist in temperature control through cross flow ventilation.
The Architect specified designed a standard brick veneer construction with concrete tile roof. However, what made the home different in its thermal performance was the introduction of the reflective foil insulation in the form of Concertina Foil batts.