QT®EcoSeries Wall Panel System - masonry veneer wall panels from QT Systems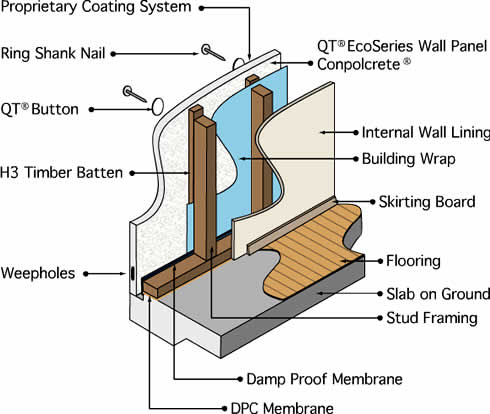 QT® Exterior Wall Systems have been designed as masonry veneer wall for use on residential and low-rise commercial type buildings, where timber or metal frame construction techniques are used. Using masonry or brick veneer construction techniques and providing a drained and ventilated cavity, the QT®EcoSeries Wall Panel provides the user with an exterior wall solution, ready to accept a proprietary coating system. If so desired, the QT®EcoSeries Wall Panel System can be tailored to provide traditional deep reveal details of brick construction.
The starting point of the installation is to choose a slab edge detail, either rebated slab or non-rebated slab with Panel Boot. Prior to batten installation, apply a vapour permeable sarking, to the external face of stud frame. Sections of damp proof membranes are affixed to the frame around openings and the underside of the base course of panels.
Affix H3 timber battens (treated moisture resistant timber) or metal battens (Z275 0.55 BMT) vertically at stud centres, with fixings at 200mm to 400mm maximum centres depending on the wind classifications. An alternative choice is to use the Clip and Channel System, where clips are fixed over the vapour permeable sarking and into the external face of the stud frame. The metal channel is then clipped into the adjustable clip until plumb.
The QT®EcoSeries Wall Panels are then horizontally face fixed in a stretcher bond pattern, to the battens using QT®Button with galvanised screws or nails. QT®EcoSeries Wall Panels are isolated from the structural framing, hence reducing potential stresses in the wall panel due to wall movement and providing long-term stability and integrity.
QT®EcoSeries Wall Panels can be cut with an electrical circular saw or handsaw, and can be shaped with an electrical plane, router or hand rasp as required. During installation of QT®EcoSeries Wall Panels, it is essential that all vertical and horizontal butt joints be bonded with polyurethane foam. All internal and external corners must have QT®CornerMesh or continuous QT®Fullmesh embedded into the wet render. Whilst Render is still wet embed QT®45°Mesh 150mm x 300mm at 45° across the corners of all openings. μPVC reveal beads can used to provide straight lines for rendered edges.
The QT®EcoSeries Wall Panel is now ready for the application of a proprietary coating system, consisting of a polymer-modified cement render and acrylic finish systems. Any proprietary coating system specified should meet or exceed the performance criteria of the BCA 96. Polymer-modified cement renders from Rockcote, Dulux and Supa Coat have been approved. (Refer to links page for specifications) Check with other proprietary coating manufacturers for products that have been approved.
The proprietary coating plaster systems are required with QT®Fullmesh to provide some resistance against shrinkage and joint movement. Install proprietary coating systems in accordance with coating manufacturers instructions. Finish with an acrylic texture and colour. The proprietary coating systems should be installed by approved applicators.