Heat & Glo fireplaces by Jetmaster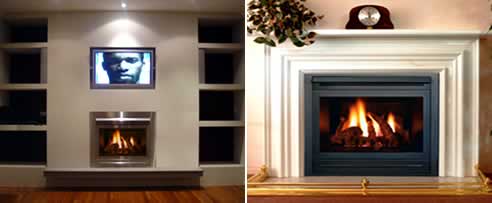 Fireplaces by Jetmaster are designed to burn wood or gas and are easily converted. Choose from eight different gas log fires, gas coal fires or pebble gas fires for the Jetmaster universal open fireplace. Convert your existing fireplace by simply inserting the Jetmaster and gain five times the heat. Building a new fireplace is easy with jetmaster, requiring minimal brickwork or no brickwork with our zero clearance models.
Outdoor Fireplaces by Jetmaster Bring a whole new dimension to outdoor entertaining. A jetmaster outdoor fireplace incorporates the Universal range of fireplaces which draw beautifully and requires minimal cleaning.
Direct Vent gas log fires by Heat & Glo offers you the perfect home heating system. These very efficient and versatile gas heaters offer zero clearance and balanced flue technology. Heat & Glo gas log fires can vent straight off the back or flue vertically and are easy to install.
Jetmaster-Heat & glo also offers a range of slow combustion wood heaters and an electric fire.