Automated Drop Down Flood Barrier for Loading Dock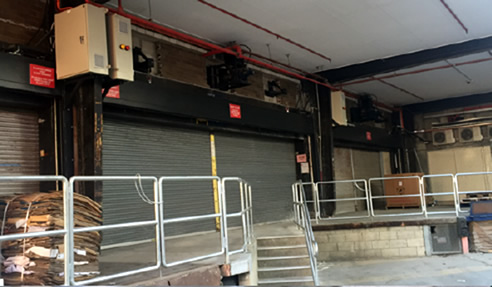 Flood protection has come a long way. From demountable panels to automatic self-closing flood barriers, the technology has continuously followed a growing trend in response to demands brought along by the threats of climate change. Local Councils have set development approval requirements that follow the same rationale.
Warringah Westfield responded to the consent conditions of the Centre's recent redevelopment that required measures to protect visitors, workers and the building itself during heavy rains and flooding. The challenge was to integrate flood barriers into the existing structure, making the installation of the devices as seamless as possible with minimal impact on the amenity. Engineering group Cardno consulted the Flooding Solutions Advisory Group to survey, plan and install flood protection devices for different locations around the property, with varying physical constraints such as car parks, high traffic roadways, storage areas and loading docks.
An important area of the project is the David Jones loading dock, one of the arteries of the mall's supply chain. The dock's three wide openings presented an inundation risk that an innovative design solution was needed due to the difficulty of retro-fitting flood protection. To meet this challenge, Flooding Solutions designed an "Automated Drop Down" self closing flood barrier triggered by floodwater.
The Automated Drop Down barrier descends from above building openings as opposed to rising from in-ground housings. It was considered the most suitable device for the loading bay for two reasons: The constraints of doing an in-ground barrier due to existing underground infrastructure and the limited space to fit other devices such as automated swing-gate.