RAM PUSH Flood Barrier for Car Park Ramps from Flooding Solutions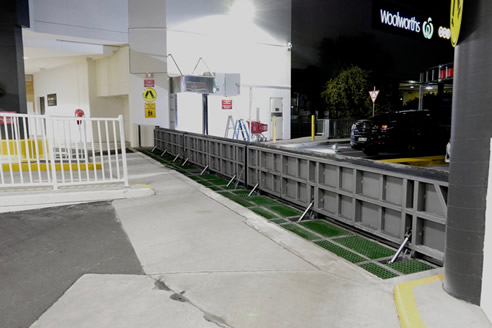 Consent Authorities require new developments to meet high standards for flood protection. Flood barriers that deploy without any human intervention are often necessary to meet Council Consent conditions.
Flood protection experts were prominent in the implementation of Flood Consent compliant devices in the recently concluded Warringah Mall Redevelopment Project. Due to the complex nature of integrating flood barriers into the existing property, no less than four different types of self-closing flood barriers were required. Flooding Solutions Advisory Group was chosen to design, supply and install a selection of flood devices such as the 24/7 flood doors, Flood Roller Doors, Automated Drop Downs, Swing Gates and the Ram Push flood barrier which was used to secure a new parking garage entry.
Why was the Ram Push Flood Barrier specified for the project?
The Ram Push is ideal to use on building entries and carpark ramps. When not deployed, the barrier becomes part of the pavement structure and disappears from view.