Hinged Swing Gate for Access Roads by Flooding Solutions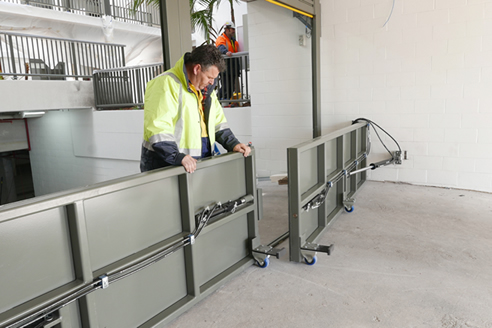 Flood protection is a rising concern among local councils. Flood consent conditions have been put into place for developers to meet before they can proceed with the construction. Floods pose a significant threat not only to properties and assets, but most importantly, to human lives. This is why it's not enough for developers to install the cheapest flood barrier just for the sake of having one. Planning for flood protection as the design of the building is taking shape, and talking to the right people is necessary.
Over the years, Flooding Solutions Advisory Group has developed a close partnership with architects, engineers, building developers and property owners in integrating the right solutions for their flood protection requirements. They have an in-depth knowledge of the current demands of local councils and flood consent authorities regarding the use of flood barriers. They do not just supply the products, they know the science behind every installation and strive to coordinate the design of the flood devices with the holistic design of the building.
Flooding Solutions recently completed a large-scale installation in the Westfield Warringah Mall where different flood barriers were used based on the variety of terrain requirements, the speed of flood water rising and projected height of floodwater. Flood protection devices such as 24/7 Flood doors, Ram push up flood barrier, automated drop drown flood barriers were all installed in the buildings' key entry points.