High Quality Aluminium Louvres and Sun Screens from Louvreclad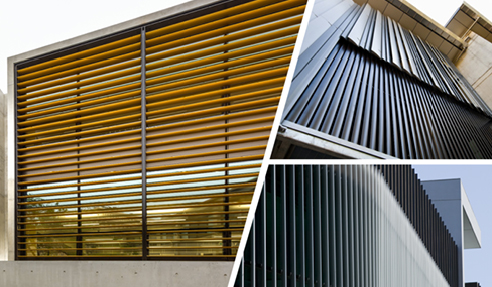 Engineered for optimum safety, energy conservation, and an ideal architectural finish for building new builds and building refurbishments.
High-quality aluminium louvres from Louvreclad can be anodised or powder coated, supplied in your choice of flat-pack, assembled panels, or prefabricated panel systems for a quick and easy install.
Although simple in design, these louvres provide a sophisticated exterior screening solution. With 30+ years in the industry, the Louvreclad Design Team have the expertise and experience to help you achieve a unique and high performing exterior building solution. Advantages include durability and versatility, custom designed fixings and fittings, pre-fabricated lightweight and unitized systems for ease of install, expert advice to ensure the correct louvre specification, maximum natural ventilation, and minimal upkeep and corrosion resistant.
Louvreclad's high-quality aluminium louvres range includes:
Elliptical Louvres: Merlin®, Ocean®, Wickham®, Oxford®, Windsor® and Bremer Series® - made with a durable, high impact resistant aluminium ellipsoid blades, generally used to provide optimum sun screening for a building.
Ventilation and Weather Louvres: Altura®, Cascade®, Ellenborough®, Jupiter®, Nexus, Kensington®, Neptune®, Orion® and Hudson Series® acoustic louvres - All made with the highest quality of extruded aluminium that provides excellent aesthetic appeal, zero vision and security while also providing AS 4740:2000 performance tested aerodynamics and rain defense. Commonly used to meet your screening and ventilation requirements in commercial and industrial buildings.
For more information, contact Louvreclad or visit www.louvreclad.com today.