The Dakota outdoor gas fireplace from Jetmaster Fireplaces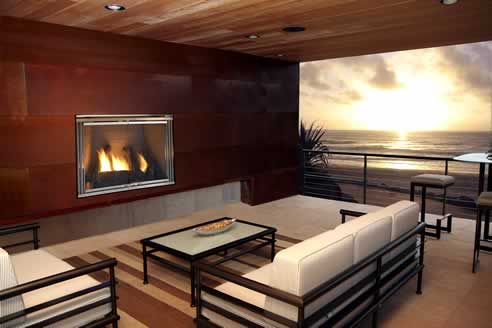 Jetmaster is proud to present the world's first dedicated outdoor gas fireplace, the Dakota from Heat & Glo. The clean lines of this unique fireplace are sure to accentuate the feel of any contemporary outdoor or Al Fresco area.
All metal components including burner and grate are fabricated from 304 Grade Stainless Steel, making this fireplace suitable for roofed, semi-roofed or fully exposed outdoor conditions. Features include battery powered Intellifire electronic ignition with outdoor remote control for convenient operation, an 8 piece hand painted logset, Natural/LPG gas operation and glass door assembly as standard.
No chimney or flue is needed as all by-products from combustion are expelled through louvers at the top of the fireplace, providing installation flexibility and cost savings.
Whether using the fireplace as a cozy radiant heater or simply for ambience, there is no better way to extend your living space and create the ultimate outdoor lifestyle.
Cost: $4650 complete (plus any potential installation costs).