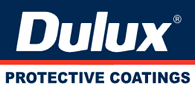 Company Profile
Dulux Protective Coatings is a leading manufacturer and supplier of quality protective coatings, servicing the Australia-Pacific region for over 75 years. Manufacturing a comprehensive and diverse range of coatings to suit all industry types, Dulux Protective Coatings meets the needs of our customers, from light industrial coating systems suitable for machinery and steel used in mild environments, to high performance systems for protection in chemically and environmentally harsh conditions. Given the diversity of the Protective Coatings industry, Dulux carries a wide scope of coating types to meet the needs of you, our customer. The Dulux Protective Coatings range of products includes coatings such as single pack and etch primers and alkyd enamels through to heavy-duty epoxy primers, intermediates and topcoats, zinc rich coatings, chlorinated rubbers, epoxy acrylics, polyurethanes and micaceous iron oxide coatings. Specialist high performance systems embrace polyureas and heat resisting product lines.
Dulux Protective Coatings
03 9263 3645
1956 Dandenong Rd, Clayton, Vic, 3168
* If you would like to update the text on your profile page, please contact Spec-Net.