Waterborne Epoxy Floor Coating from Dulux Protective Coatings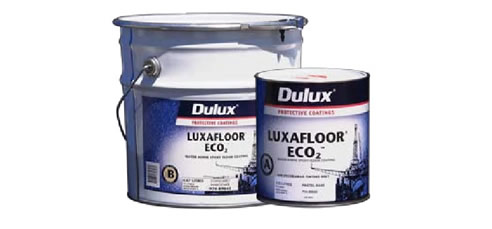 Dulux Protective Coatings offer Dulux luxafloor ECo2. Dulux luxafloor Eco2 is a two-pack, waterborne epoxy floor coating that is designed for interior use.
Luxafloor ECo2 is also designed for medium foot and wheel traffic conditions, where solvent odours may be a concern. The total VOC level of luxafloor ECo2 is less than 10 g/l and has virtually no odour, making it suitable for projects where stringent indoor air quality standards must be maintained, such as the refurbishment of hospitals, aged care facilities and schools.
luxafloor ECo2 can be used in projects constructed within ESD guidelines. The fast dry characteristics of luxafloor ECo2 allows up to three coats to be applied in a single day, and ready for light traffic in a day or two.
Design versatility with luxafloor ECo2 Clear allows you to specify one of the standard colours in the Luxafloor range, then specify a propriety vinyl flake for a dramatic, seamless effect. The flakes are sealed with Luxafloor Clear to provide an easily cleanable surface.