Flexituff™ ACG by Dulux Protective Coatings aquaculture grade polyurea elastomer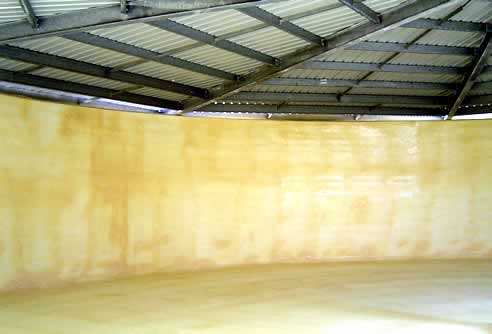 Flexituff™ ACG is a 100% solids, spray applied, aquaculture grade pure polyurea elastomer coating that exhibits extraordinary toughness and elastomeric performance characteristics. It offers high impact, tear and abrasion resistance while also displaying a high degree of flexibility and waterproofing properties.
Flexituff™ ACG has been designed specially for use as an aquaculture-safe elastomeric lining for tanks that are used to hold marine or freshwater food fish such as salmon and trout, endangered fin-fish, and shellfish such as oysters, clams and prawns, under controlled conditions. Flexituff™ ACG's aquaculture credentials were acquired through rigorous tests using the most sensitive of marine life, pearl spat and fish larvae.
Flexituff™ ACG provides excellent protection when sprayed directly to suitably prepared and primed steel and concrete. Due to its balance of physical properties, it can withstand rough installation treatment and burial in a variety of soils without the need for graded back-fill.
Features & Benefits
Zero VOC.
Seamless, and therefore avoids the most common failure point of sheet lining systems.
Extremely high elongation factor of 427% (ASTM D412-92) readily accommodates substrate movement (both cyclic and intrinsic) in concrete and earthen containment areas.
Excellent tensile strength of 16.5 MPa (ASTM D412-92).
Extremely tough and resistant to wear, tear and abrasion (49.7 N/m² - ASTM D624-86).
Fast cure of 24 hours allows shorter downtimes and much faster return to full production.
Low temperature cure - will fully cure at temperatures as low as 1°C.
No TDI or MOCA.
Suitable for holding drinking water and supporting aquaculture.
Performance Guide
Weather: Withstands the most severe weathering conditions.
Temperature: Performs in temperatures between -43°C and 120°C.
Water: Excellent resistance to fresh and salt water.
Chemicals: Resists splash and spillage of mild inorganic acids and strong alkalis.
Abrasion: Excellent.