Weathermax® HBR protective polyurethane finish from Dulux Protective Coatings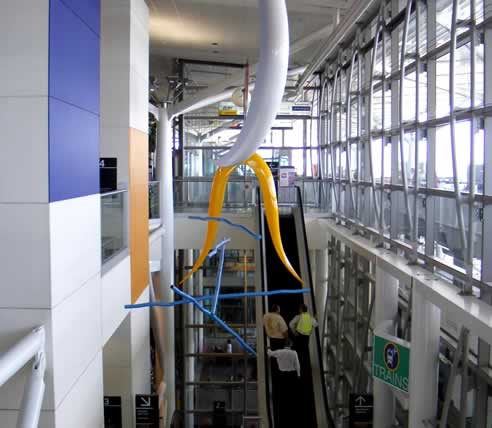 It is a well-known fact that where graffiti is removed almost immediately, subsequent graffiti is much slower to appear, as such areas are not deemed to be worth the effort. Also, tags are more likely to appear on walls already carrying tags, as the ego of the graffitist will not allow a rival's tag to remain unchallenged.
So, an effective plan against graffiti must include (among other things) an effective graffiti-resistant coating system that allows rapid removal of the offending graffiti. Dulux® Weathermax® HBR is a two-pack, high-build, gloss polyurethane with high UV and chemical resistance - the ideal topcoat for a wide range of applications.
Weathermax® HBR was specially formulated for application by brush and roller, giving you far better flow out and significantly lower visual brush-marking than with conventional polyurethanes, and hence a more visually pleasing, superior finish. The higher solids content of Weathermax® HBR allows greater film builds to be achieved via spray application where exceptional durability is required.
The recoatability and superior chemical and solvent resistance of Weathermax® HBR, particularly to Dulux Graffiti Eraser™, make it the ideal maintenance coating in areas prone to graffiti.
Features & Benefits
Excellent gloss retention and yellowing resistance - superior exterior durability.
Higher film builds by brush and roller offers heavy duty protection in fewer coats.
Can be applied up to 125 microns in a single coat via spray application.
Suitable for a wide variety of applications and substrates in coastal, industrial and chemical environments.
Available in the full range of Dulux® Colour Specifier and AS2700 colours.
Resists spray can graffiti - excellent resistance to Dulux Graffiti Eraser™.
Performance Guide
Weather: Withstands the most severe weathering conditions.
Heat: Resists temperatures up to 120°C.
Water: Excellent resistance to fresh and salt water.
Chemicals: Resists splash and spillage of aromatic and aliphatic hydrocarbons, esters, ethers and alcohols. Excellent resistance to splash and spillage of most acids.
Abrasion: Excellent when fully cured.