Aquagalv® by Dulux Protective Coatings heavy duty, waterborne coating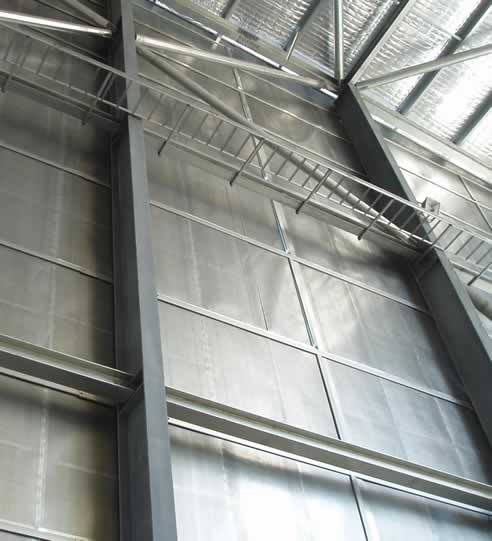 Environmental sustainability is a core element of the Dulux Protective Coatings business philosophy, particularly in the move away from solvents and towards water-based alternatives. One outstanding result is Dulux Aquagalv® - a waterborne, alkali-metal inorganic silicate coating.
Dulux Protective Coatings launched Aquagalv in March 2007 to meet the demand of the emerging sustainable coatings market. Consider the lifecycle of a steel structure and the coatings that serve to protect it; no other product at 75 microns DFT delivers 25 years to first maintenance in a category D* coastal environment, and with less than 10g/L of VOC (volatile organic compounds). The coating is essentially cold-galvanizing with 86% metallic zinc content in the dry film; it does not have the embedded energy of hot-dip galvanizing, nor does it have the levels of VOC like solvent-borne inorganic zinc coatings, making it ideal for "Green Building" requirements.
Aquagalv is "a breath of fresh air" for applicators, with virtually no odour and a considerably reduced OH&S impact during application. It can be combined with waterborne finishes where aesthetic colour is required, or to further enhance protection.
Aquagalv's features have earned its use on major steelwork on projects such as:
Tallawarra Power Station;
Specialty Operations Headquarters Department of Defence;
Liddell Colliery; and
The new State Office Tower in Penrith NSW.
Aquagalv offers very long-term galvanic corrosion protection on externally exposed structural steelwork, even in corrosive coastal areas. In fact, Aquagalv conforms to AS2312:2004, Systems "IZS2 & IZS3" for long term corrosion protection.
Specially formulated for projects adhering to stringent ESD (ecologically sustainable design) guidelines, the total VOC level of Aquagalv is less than 10 g/l. Its low VOC levels, minimal thermal energy inputs, nil corrosive chemical surface treatments and superior corrosion protection make Aquagalv the ideal alternative to hot dip galvanizing.
When fully cured, Aquagalv has a smooth, even and exceptionally hard surface that resists damage during transport.
Features & Benefits
Very low VOC; < 10g/l, most suitable for ESD compliant projects.
Contains a high level of zinc metal for maximum corrosion protection, especially in marine and coastal environments.
Primer/finish that can be easily top-coated if a colour is required - no adhesion problems normally associated with coating other forms of zinc.
Extremely tough and abrasion resistant once cured, and resists damage during transport.
Low odour and easy water wash-up.
Performance Guide
Weather: Withstands the most severe weathering conditions.
Heat: Resists temperatures up to 400°C.
Water: Excellent resistance to fresh and salt water.
Solvent: Resists splash and spillage of chlorinated, aromatic and aliphatic hydrocarbons and alcohols.
Abrasion: Excellent when fully cured.