Bushfire Shelter Fire Rated Doors from Pyropanel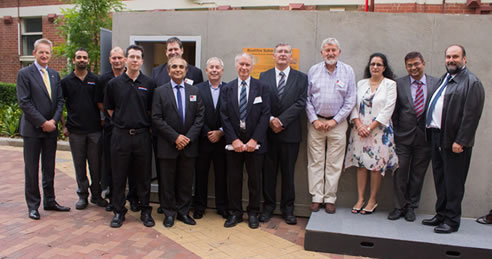 BUSHFIRE BUNKER IS LAUNCHED
Pyropanel assisted Swinburne University - Faculty of Science, Engineering and Technology, as well as Frankston Concrete Products in the design, building and testing of an above ground bushfire shelter; utilising our expertise in fire rated door systems.
The launch of the bushfire shelter occurred on 2nd December 2014 at Swinburne University's Industry Open Day and was officially launched by the Executive Dean of Science, Engineering and Technology Professor John Wilson. Dr Ambarish Kulkarni, one of the chief design engineers provided a discussion on the design, testing and development of the bushfire shelter with input from Peter Zigouras from Frankston Concrete Products.
The shelter, which can accommodate five people and withstand intense temperatures, features and outer and inner chamber with double walls. In the event of a bushfire, people move into the inner chamber where they close the vents and wait for the fire. A small window allows them to check the fire front has passed before they exit the shelter.
This serves as a vast reminder for the lives that have been lost due to bushfires, with industry professionals pulling together to design a shelter to save lives.