Security Latch for Fire Doors from Pyropanel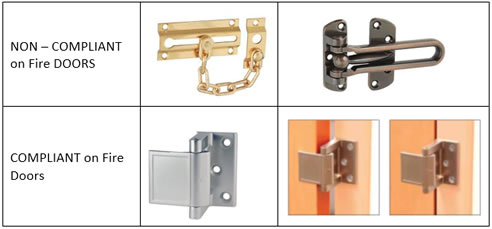 Pyropanel New Security Latch
New Pyropanel Security latch complying with AS 1905.1 - 2015, fire tested and available.
AS 1905.1 - 2015 explicitly prohibits the use of security latches that could prevent a fire door from self-latching, e.g chains, deadbolts and swing bars (see examples shown above). Pyropanel has a tested, approved and foolproof hardware solution which satisfies the requirements of AS 1905.1 - 2015. The latch is available in two variants, provides a level of security and cannot be used to prop the door open or damage the door.
The Pyropanel Security Latch is suitable for apartment entry doors, hotel doors or any door which requires a level of security by the room occupant. Fire tested only on Pyropanel door sets, the privacy latches satisfy the new requirements of AS 1530.4 - 2015 and set an industry benchmark raising the level of protection to the fire door and ensuring that the fire door will perform as required when required.
For more information on the Pyropanel Security Latch please click on the below link:
ACC-10 - Pyropanel security door latch
Benefits of specifying and installing this piece of hardware:
1. It complies with AS 1905.1 - 2015.
2. It has been fire tested on Pyropanel Door sets.
3. It limits damage to doors by chains catching in the door stop and forced action tearing out screws.
4. Ensures that the functionality of a fire door of being self-closing and self-latching is not interfered with, either intentionally or accidentally.