Online Hardware Product Portal from Pyropanel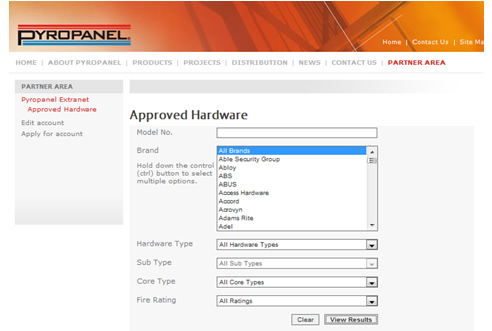 Pyropanel's Online Hardware in Action
In Australia, each type of door hardware proposed to be used on fire rated doors needs to be fire tested and approved by a registered test laboratory in a sample fire door.
Pyropanel's fire rated hardware schedule is 108 pages long and contains over a 1000 entries. The hardware schedule is updated at non-regular intervals as new products are approved.
For Pyropanel, this was a difficult document to maintain in currency and distribution and for our customers this was a difficult document to navigate and search for one particular piece of hardware.
Working with ASSA ABLOY Australia IT and two of our customers, Pyropanel was able to develop an online platform with secured access for its customers.
Although our customers only see the end product, in this case a uniquely generated PDF list of approved hardware filtered by their search criteria; the behind the scenes work was more intense.
The data is still created and stored on a local Microsoft access database. The online portal reads the information at regular intervals and converts it into a SQL database, which is used to support the customer's enquiries.
The project delivered on improving the quality, and the timely accessibility of current information for our customers.
Secondary benefits of the project also realises the reduction in time spent answering simple enquiries and the need to release updated schedules at regular intervals.