Cycle Testing for Performance Doors from Pyropanel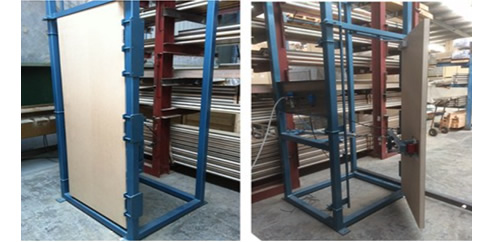 The primary objective of cycle testing fire door leaves is to make sure the doors can withstand the operational forces endured throughout their life cycle, as well as maintain their performance requirement of preventing the spread of fire. Pyropanel has developed its own cycle test facility specifically targeting the door leaf, closer and hinges.
Over time, wear and tear could compromise the fire resistance level of the doors.
Cracks may appear in the timber door edge strips, hinges can come loose or wear out, and door skins could delaminate from the core.
In addition, there are opportunities to improve the design of fire doors to suit newly available materials, different walling systems, and construction techniques.
The cyclic test rig developed by Pyropanel is able to support full-size fire doors of various thicknesses and weights, up to 2700mm high and 1020mm wide.
A pneumatic operator opens the door, and an hydraulic door closer returns the door to the closed position. To the best of our knowledge, there is no such facility available in Australia.
The test rig is helping Pyropanel ensure that various door leaf constructions can withstand the torsional forces and repeat impact loads experienced over the life of a door.
In some markets such as Malaysia and Singapore that Pyropanel is targeting, fire doors must be cycle tested as well as fire tested.
It is hoped that this new test rig will lead to end users having even more confidence in Pyropanel products.