Liftaway Stainless Steel Grab Rails from Hand Rail Industries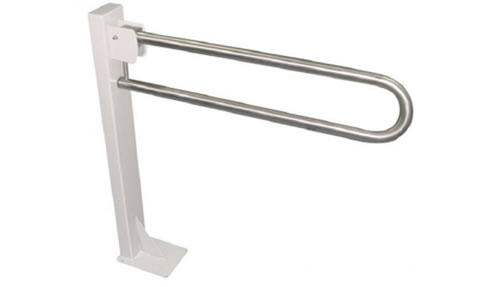 Stainless steel grab rails serve as aids for balance and support, they also provide assistance with transfers in the toilet and bathroom. They are commonly found in areas where there is a high risk of slips or falls. According to the Australian Institute of Health and Welfare, fall-related hospitalisation is particularly common among older people aged 65 and over.
Common areas where stainless steel grab rails are used include toilets, showers, bathtubs, hallways, and the stairs. They differ from regular hand rails, which are typically used for guidance and stability when dealing with changes in levels, such as the staircase.
Since 1982, Hand Rail Industries manufactures and distributes disabled and aged care products for access and mobility solutions in the healthcare industry. The (Type 126A) Liftaway stainless steel grab rails from Hand Rail Industries is a locked up, floor mounted grab rail, that offers support and stability in sitting down and standing up at the toilet.
The Liftaway stainless steel grab rails are made up of premium satin stainless steel known for its higher strength and hardness. The protective clear oxide layer found in stainless steels provide resistance against corrosion, which is ideal for applications where the presence of moisture and water is a concern.
The "Liftaway" mechanism, or its up and down locking position, provides practical and easy access to the toilet seat. Just pull it down for the affected individual to hold onto for stability as he or she manoeuvres and sits down on the toilet. It also forms a barricade-like protection that prevents the person that is sitting in the bathroom from falling or slipping sideways.