Fold Up Rail: Type 552 Safe Lock from Hand Rail Industries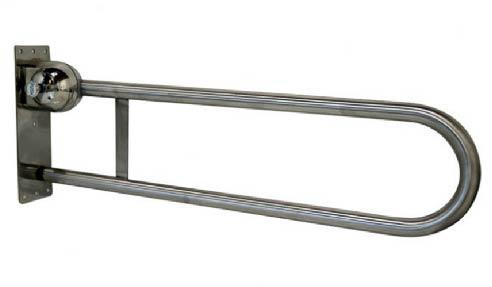 Hand Rail Industries receives a steady demand for fold up grab rails, built for optimal support and ease of use. The product range is designed to assist with toilet transfers for older adults and people with disability.
Fold Up Rail: Type 552
Type 552 is a wall mounted grab rail with a sophisticated safe lock mechanism. Hand Rail Industries designed Type 552 to lock the grab rail in both up or down positions for optimum user convenience and more importantly, user safety. Locking the rail in the up position mitigates the risk of the rail falling on the person and being hit, while for instance cleaning around walls and cisterns or bending down to pick up anything on the floor in the rail's vicinity. The grab rail is also designed with a push and pull button action that makes for easy, hassle-free operation of the safe lock mechanism, and locking the rail in position.
As with all fold up grab rails, Hand Rail Industries fabricates Type 552 from high-grade stainless steel with a satin finish.
With exposed fixings, the Type 552 provides high workability in mounting to a structurally sound wall.
Type 552 is available in the diameter of 32mm, and the length of 850mm from the backing plate. Hand Rail Industries also supplies toilet roll holders and nurse call boxes to fit onto fold up grab rails upon request.
For more details on mobility shower aids, consult the experts at Hand Rail Industries by calling (03) 9466 3211 or by visiting www.handrailindustries.com.au today.