Home Assist Mounting Kit for Folding Shower Seats by Hand Rail Industries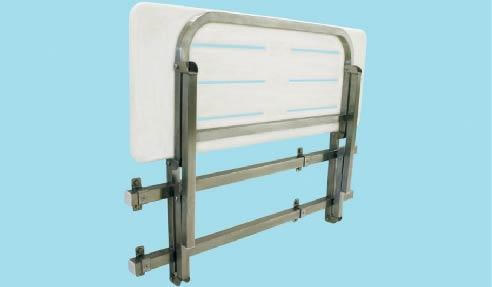 Folding shower seat assemblies by Hand Rail Industries are the industry standard in Australia. Established in 1982, Hand Rail Industries continues to be the national industry leader in disabled and aged care products for the construction and healthcare sectors.
Enhanced Folding Shower Seat Assemblies
Hand Rail Industries equips shower seats an added layer of functionality with the Home Assist Mounting Kit. The Home Assist product range aims to improve the security, safety and overall living situation of older adults and people with disabilities.
The Home Assist Mounting Kit is suitable for do-it-yourself installation by installers, homeowners and facility managers who understand the requirements of correct application via placement of fixings on the wall stud. Hand Rail Industries has ergonomically designed the Home Assist Mounting Kit to prevent mounting issues in stud spacing during the installation of shower seats.
Suitable for corner mounting, the Home Assist Mounting Kit is compatible with shower seats in wet areas. Its high-grade stainless steel build combats premature deterioration due to moisture, saline solvents and other agents of corrosion. In addition, stainless steel provides high visual appeal that complements a wide range of interior styles. It retains its sleek appearance in the long run, adding to the aesthetic value of the shower seat, and the overall area of application.

VIC: 03 9466 3211
NSW: 0429 183 476
90B Northgate Drive, Thomastown, VIC, 3074