Custom LED Light Fittings for Sydney Harbour Bridge by Gerard Lighting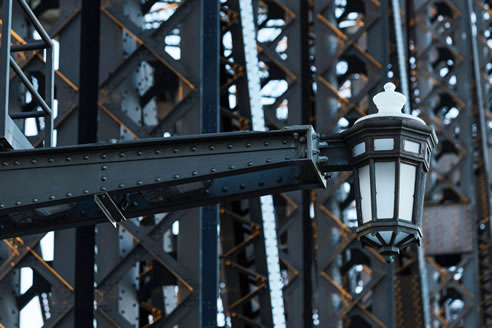 SYDNEY HARBOUR BRIDGE HERITAGE PROJECT
Gerard Lighting Group has been operating in Australia for over 100 years. Headquartered in Sydney, Gerard Lighting is well known for providing its clients with sustainable and innovative solutions for lighting, from industrial, commercial, residential and infrastructure. With an extensive footprint across Australia and New Zealand, Gerard Lighting has a portfolio that incorporates the electrical industry's leading brands. One of its most interesting projects has been its work on recent changes to the lighting on the Sydney Harbour Bridge.
The iconic Bridge was originally designed to create a sense of arrival or entry to a special place. When completed in 1932, the Bridge's roadways were lined with distinctive bronze lantern fittings. Unfortunately, the lights produced a glow that was deemed to be of detriment to drivers as traffic volumes increased. The lanterns were removed in the 1950s and replaced with modern fittings for the time. Without much foresight into their historical significance, most of the lanterns were also unfortunately destroyed.
As the 21st century progresses, there has been an increased focus on preserving Australia's national heritage and historical structures. Owned by the RMS (Road and Maritime Services), the Bridge's heritage value is proudly being upheld with the RMS, ensuring that any changes or modifications required to service contemporary requirements are done in a manner that are respectful to the original architecture. In 2013, the decision was made to resurrect the original bronze lanterns in an effort to provide both effective lighting, whilst also restoring the original aesthetic of the Bridge's unique adornments.