Fold Up Bariatric Rails by Hand Rail Industries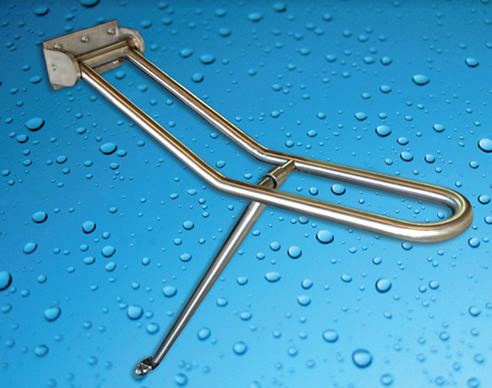 BFD1 fold up bariatric rails by Hand Rail Industries are engineered using Grade 304 stainless steel. Test reports confirm that the BFD1 is proof load tested to withstand a horizontal and vertical force of 300kg on the minimum. Bariatric patients can use the heavy-duty grab rails for a firm handhold when moving from sitting to a standing position or side transfer.
Designed as a pivoting grab rail, BFD1 can be easily adjusted in tension for lightweight fold up and vice-versa. It will not fold down unexpectedly with a secure automatic lock in the up position. To release the lock, the patient can easily rotate the sliding strut by 1/6th of the movement. This innovative operational mechanism of BFD1 aims to avoid the risk of trips and falls effectively.
Hand Rail Industries is largely depended on to address the demand for BFD1 fold up bariatric rails, and other assistive devices in the Australian market. In service for over three decades, the Victorian-based company does not disappoint with the bariatric range of products for aged care and people with disabilities.
Why do you need BFD1 Fold Up Bariatric Rails in your home?
In 2014-2015, a record 63.4% (11.2 million) Australians aged 18 and over was reported to be overweight or obese. On top of the health issues this demographic may face, they are more exposed to trip-and-fall hazards, even right at home. Fall-related injuries that bariatric patients sustain can lead to more serious medical conditions.

VIC: 03 9466 3211
NSW: 0429 183 476
90B Northgate Drive, Thomastown, VIC, 3074