Positive Pressure Ventilation from Homevent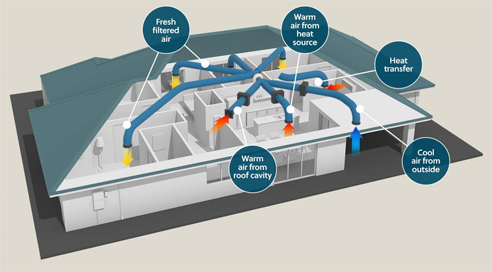 Homevent Positive Pressure Unit, which is also known as a PPU, works by drawing fresh clean air from outside into your home via a filter which purifies the air even more. It then pushes it gently and continuously through your home, diluting and displacing any stale, moist air thus preventing it from causing condensation and black mould problems. The PPU provides you with a permanent, reliable solution to condensation and black mould problems and general poor air quality and ventilation issues which can result in damp musty smells.
What is Positive Pressure Used For
Positive Pressure Units provide continuous and quiet ventilation throughout a dwelling, without cold draughts and without affecting the operation of open-flued combustion appliances. Positive Pressure Units are claimed to be an effective means for overcoming condensation and mould problems in existing homes.
Benefits
Cures condensation dampness
Removes humidity from the air, preventing mould growth and controlling dust-mite allergens
Prevents black mould germination
Improves indoor air quality
Cooking and cleaning pollutants are removed
Low maintenance
Alleviates condensation and black mould
1300 577 777
Unit 26, Dural Park, 280 New Line Road, Dural, NSW, 2158