The LT-50 Heat Recovery Vent from Ventilation Supplies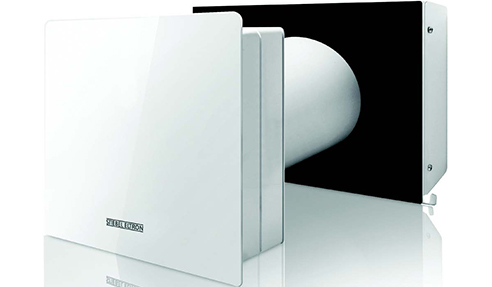 The LT-50 Heat Recovery Vent from Ventilation Supplies helps improve building efficiency by providing a ventilation system without heat loss or humidity - two factors that put stress on a building's heating, ventilation, and air conditioning (HVAC) systems. The LT-50 Heat Recovery Vent interjects fresh air to a building, improves climate control, and supports efficient energy use.
Use:
Ensures hygienic required minimum air exchange between indoor and outdoor air
Eliminates excess moisture with various program settings
Helps protect the building structure by preventing the formation of mould
Reduces heating and cooling energy costs
Guarantees ventilation in all weather conditions
Quiet operation
It filters fresh outdoor air
Eliminates uncomfortable smells
Installed in pairs - up to 10 systems can be linked
Features:
Efficient Ventilation helping supply fresh air and extract polluted air
Access with remote control
Low energy demand - Reversible EC Fan
Multitasking functionality - 3 speeds & automatic humidity control
Compact - No ductwork, easy wall installation
Air Filtration - G3 air filtration with antibacterial treatment
Quiet operation - Low noise 19-29dB(A)
Up to 90% heat recovery - Energy saving operation
Item Specification:
Voltage: 100-240 V
Power: 14 W
Max. Ventilator current: 0.039 A
Max. Air capacity: 54(31.8) [m3/h] (CFM)
RPM: 1450 min-1
Noise level at 3 m distance: 29 dB(A)
For more product details on LT-50 Heat Recovery Vent, visit www.ventilationsupplies.com.au.
1300 577 777
Unit 26, Dural Park, 280 New Line Road, Dural, NSW, 2158