Bathroom Ventilation from Ventilation Supplies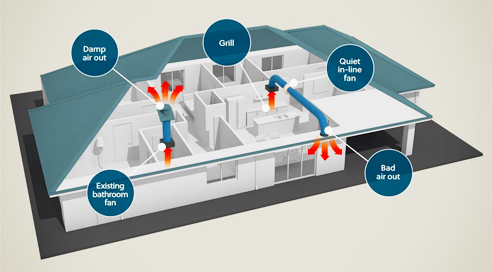 Bathroom ventilation is a simple project, but it needs to be done right. The fan you choose to install could end up a waste of time, money, or worse - it may be the cause of serious damage to your home.
How powerful does the fan need to be?
The power required of the fan will often determine its size otherwise it can be a waste of time or money if you fit a fan too small or large. The recommended air movement to ventilate a bathroom is 15 air changes per hour and there is a simple formula to determine this.
First, measure the size of the room. You will need to measure the length x width x height, and this will give you the m³ for the size of the room. For example; 3 meters long x 2 metres wide x 2.4 meters high = 12. We then multiply the m³ by the desired air changes, which in this case is 15, so 12 x 15 = 180 m³/per hour, which now becomes the fan rating we need for the room.

1300 577 777
Unit 26, Dural Park, 280 New Line Road, Dural, NSW, 2158