Toilet Back Rest Rail Combo Kit from Hand Rail Industries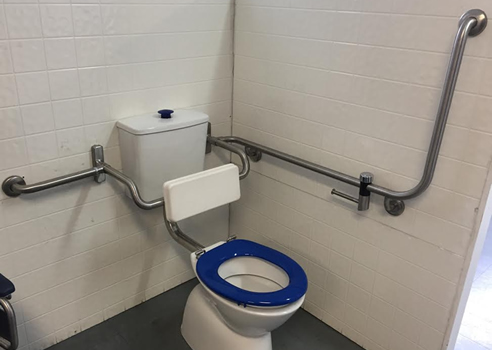 The RestEzy Back Rest Rail Combo Kit: 140/136 for use in access and mobility assisted toilets from Hand Rail Industries
Back Rest Rail Combo Kit Type 140/136 (as displayed above).
The Hand Rail Industries RestEzy backrest rail combo kits for use in toilet installations is a valuable fixture to provide stability and mobility for users in domestic, commercial, aged care or hospital toilets. Proudly Australian, all access and mobility solutions by Hand Rail Industries are tested to the Australian Standard AS 1428.1-2009/Amdt 1 Design for Access and Mobility, providing building design requirements covering the specific needs of people with disabilities.
Hand Rail Industries takes a modular approach to design, allowing ease of installation in any toilet by customers ranging from the home to hospitals. The back rest rail combination set can be customised for left or right hand configuration as determined by having the user position themselves on the toilet seat.
The back rest rail combo kit offers a next level of flexibility, in which the back rest can be installed with a right angle grab rail or alternatively a grab rail at a 40 degree incline. These combinations provide people with suitable back stability and added mobility in accessing use of the toilet facility while minimising use of available toilet space.

VIC: 03 9466 3211
NSW: 0429 183 476
90B Northgate Drive, Thomastown, VIC, 3074