Clean Seal Flange and Cover System for Grab Rails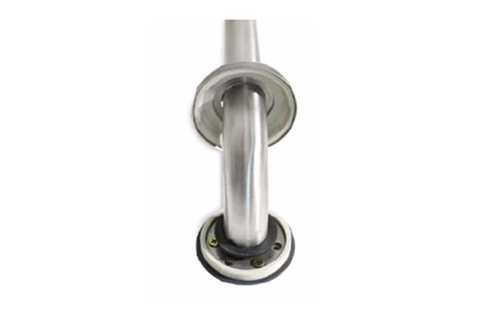 The Cleanseal flange system for grab rails is a state-of-the-art product for use in bathrooms in aged care, hospital, disabled and residential installations. Hand Rail Industries with the benefit of over 35 years manufacturing experience can provide an innovative Flange and Cover system which inhibits bacterial build up caused by soap scum, body fluid and mould spores.
Introducing the Cleanseal Flange System for Grab Rails
Cleanseal flanges from Hand Rail Industries are designed to provide full structural strength and security to rail applications. They maintain the position of the grab rail to a structurally sound wall for support where floor surfaces tend to be slippery and prone to trip and fall hazards.
Once installed, Cleanseal provides a crevice-free finish for ease of cleaning, effectively inhibiting the buildup of bacteria. The setup exhibits no joints or confined spaces, in which moisture can accumulate, to offer the damp breeding ground for such microbes. Other than physical contact, some bacteria can spread diseases by releasing spores in the air. With its hygienically Crevice - free mounted design, Cleanseal inhibits bacterial build up due to a unique silicone seal system at point of installation on the wall and also around the rail itself. On top of that, the low-maintenance system can be thoroughly cleaned without difficulty when needed.
The Cleanseal flange system for grab rails is fully compliant to AS 1428.1-2001, citing the design requirements for new building work to provide access for people with disabilities. In addition, Hand Rail Industries is duly certified by the Therapeutic Goods Administration (TGA), the regulatory arm of the Department of Health in the Australian government.
Contact Hand Rail Industries today via www.handrailindustries.com.au for more details.