Sub Floor Ventilation Systems from Homevent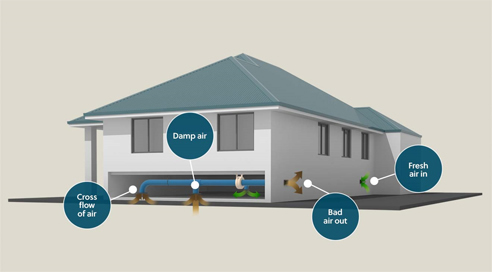 Homevent's licensed and fully insured technicians, can recommend a solution to make your home a healthy living environment.
How Sub Floor Ventilation works
Excessive under floor moisture can cause rising damp, wood rot, problem odours and insect infestation. If left untreated, this sub floor moisture may result in mould and mildew. As this moisture is under the floor the problem may remain unnoticed until it has caused serious health problems and has cost you a lot in repairs etc.
Correctly installed Mechanical Subfloor Ventilation Systems can help slow your unwanted under-floor problems to effectively reduce moisture.
What Sub Floor Ventilation is used for
There is an affordable solution to this problem - a well-implemented sub floor ventilation system with specially designed pumps and fans that will remove stale moisture-laden air from underneath raised floors. Duct openings are placed at problem locations so that the damp air can be drawn off and externally exhausted.
Homevent technicians are professionally trained to design and install sub floor ventilation and each under-floor system is customised to match your home and budget with a solution that works. Naturally, the Homevent system is energy-efficient and cost-effective with low maintenance requirements, as well as complying with Australian Standards.
When our installers arrive at your property to carry out an installation, they are careful to ensure that your home remains clean and tidy by wearing protective shoes.
They will also vacuum clean up any dust or debris. Our friendly installers provide help and instructions on how our innovative products work, explaining the benefits they will bring to your health and home.