Ducted Bathroom Fans from Homevent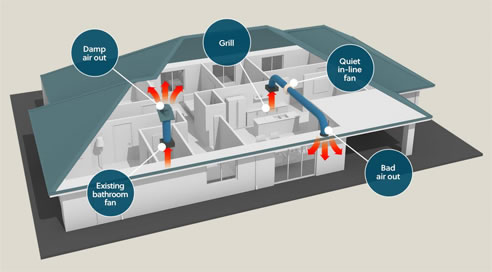 If you are after a solution for dampness in the bathroom, look no further than Homevent's Ducted Bathroom Fans.
How Ducted Bathroom Fans and Wall Fans work
1. Wall exhaust fans are a simple and sensible solution to the problem of damp in the bathroom
2. In-line ducted exhaust fans are ideal for removing damp air from laundry and bathroom spaces particularly those located in multi-storey apartments, which typically have small, or no windows or access to a ceiling cavity. An in-line exhaust fan can be installed for venting heated air from one room to another. In the reverse situation, they can also be used to draw cold air into a room. The use of a ducted exhaust fan moves a large volume of air and thereby increases ventilation in the room.
3. Using existing ceiling fans, Homevent can duct the fan to the outside by using a special system which enclosures the moisture and lets it flow outside so the roof space does not fill up with damp and condensation.
Benefits
Among the range of Ducted Bathroom Wall Fans that Homevent carries is stainless steel design and also the Slim Line. Both have multiple applications for residential premises, trade premises, restaurants, health care and child care facilities.
With easy installation and maintenance, both have ball-bearing motors and are specially designed for a long life in extract ventilation.