Low maintenance landscaping work from AYZ Landscapes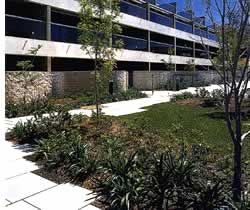 AYZ Landscaping implemented the garden design by EDAW Landscape Architects. The Company was also contracted to complete the paving around the development. For added impact, azaleas were planted at the entry of Horizon Apartments. These flowering plants add colour abd bulk to the area. The other landscaped areas are all designed to be lush and low maintenance. Plant varieties include agapanthas, imatiens, gardenias and camellias.
AYZ Landscaping placed boulders around the face of the building to add character. Lifted by cranes, then planted around with hanging plants, the granite and basalt boulders are arranged to look as if they have been there a long time.
On the northern side of the site, plants screen neighbouring buildings. To create this screen, an embankment area was designed and filled in. Horizon's exterior communal facilities, including the barbecue area, feature hand-made concrete tiles sandblasted by Bell Pipes. Trees were planted around the barbecue area to add shade. Around the tennis court AYZ Landscaping installed galvanised steel edging for fencing. AYZ Landscaping was sub-contracted to complete the planting and paving for Horizon Apartments The company worked with Edaw Landscape Architects to create a low-maintenance garden and communal areas around the low-rise town houses and other parts of the complex.