Solar Roof Fans from Homevent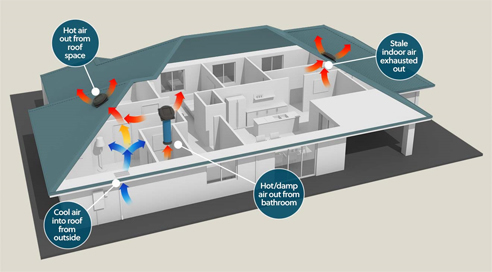 Homevent new Solar Roof Fan, is a super efficient, and is whisper quiet. We have used the best ventilation engineering and manufacturing minds in Australia and overseas to develop our revolutionary concept in economical home cooling. It will allow you to make savings on your typical monthly summertime electricity bills by keeping your home cooler.
In the ceiling, cross-flow ventilation is achieved, and this creates multiple air changes in the roof space which contribute to keeping the house cool. The system is always on and will turn on automatically via a thermostat control, when temperatures start to get hot, the system will remove the hot air.
Why use solar roof fans?
- Whisper quiet operation
- Solar so its super efficient
- Savings on your energy bill
- Fights mould and fungal decay
- Reduces damaging condensation
- Sleek slimline unit
1300 577 777
Unit 26, Dural Park, 280 New Line Road, Dural, NSW, 2158