Energy Recovery Ventilation from Homevent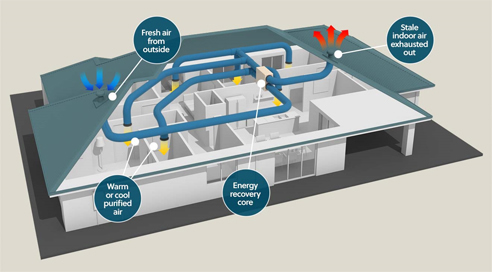 Most modern houses today are sealed and the air contained in the house is laden with moisture and pollutants created by the daily activities of its occupants. The stale and polluted air from in the household may cause significant health problems for the occupants. Also condensation build-ups caused by a well-insulated home, contribute to mould and an unhealthy living atmosphere.
By replacing stale air with fresh, dry air you can create a healthier, drier and warmer living environment for your family.
Reducing moisture increases heating efficiency as your heater or air-conditioner no longer has to dry the air before heating it.
Traditionally, ventilation has compromised home heating as it cools the home in winter. This is where the Homevent ERV comes into a league of its own. Acting as an Energy Recovery System, once installed in the roof space it removes stale inside air and odours outwards, passing warmed, tempered, outside air back through vents into your home. The ERV provides you with a continuous circulation of fresh, healthy air and being energy efficient maximises any wasted heat in your home.
The warm, dryer air being circulated makes your home easier to heat, decreasing your energy demand while the balanced ventilation minimises dampness and condensation.
The fresh air distribution and stale air exhaust ducts are connected to the ERV. Two other ducts are also connected to the unit: one for gathering fresh air from outside and the other one to exhaust the stale air to outside. The air exchanger manages the ventilation for the whole house.