Satin Ash timber flooring from Wood Floor Solutions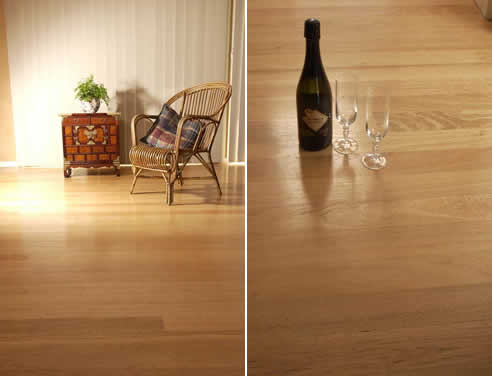 Satin Ash timber flooring by Wood Floor Solutions (Aust), the timber flooring specialists is one of Australia's most beautiful and versatile timber flooring. With a wonderful grained texture it varies in colour from soft honey tones to light brown with pinkish tinges, perfect to create a light spacious feel to any interior.
Satin Ash is available in solid 80 x 19 tongue and groove flooring in 3 grades, Contemporary, Colonial and Character. Contemporary grade has low feature, Colonial has medium feature and Character has high feature.
So what is feature? Feature is the natural imperfections within any tree during the course of its lifetime prior to logging. Our Satin Ash is graded to Australian Standards so you can be assured that you will receive the level of feature that you require, we guarantee it!
You can also choose to buy Satin Ash in timber tiles in 2 grades, Contemporary and Colonial. Timber tiles can create a totally different look to your floor. The tiles, which are 260mm long x 65mm wide and 18mm thick can be arranged in a multitude of different designs to create any pattern whether its simple and elegant or something a little more daring and exotic.
Satin Ash timber flooring is perfect solution for any interior. Call our friendly sales team on 1300 787 551 for a free quote.