Mixed hardwood decking from Wood Floor Solutions - spring has sprung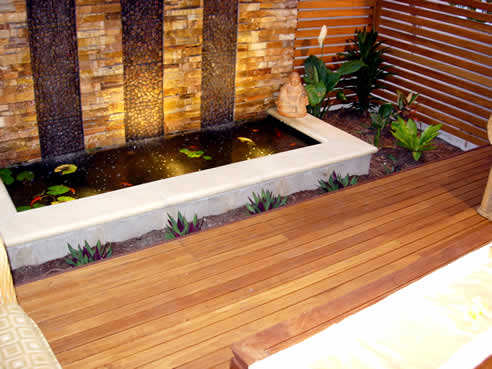 Wood Floor Solutions (Aust) is an Australian owned business that specialises in the supply of timber flooring and decking to the trade and retail markets. Whilst we specialise in Australian hardwoods we can supply whatever kind of timber decking that will suit your needs.
The photos here show our mixed hardwood 64x19mm decking used in many ways - as traditional decking and privacy screens and even as decorative finish on the central bar. Doesn't that look fantastic! The natural timber enhances the sparkling water feature and adds a warm feel to the whole outdoor entertainment area. Because its 64mm wide it is versatile enough to be able to be used both as decking and screening material therefore blending the flooring and screening areas seamlessly.
For great decking and flooring deals contact our friendly sales team on 1300 787 551 or visit our website at wwww.woodfloorsolutions.com.au or complete our enquiry form and we will contact you.