Engineered timber flooring by Wood Floor Solutions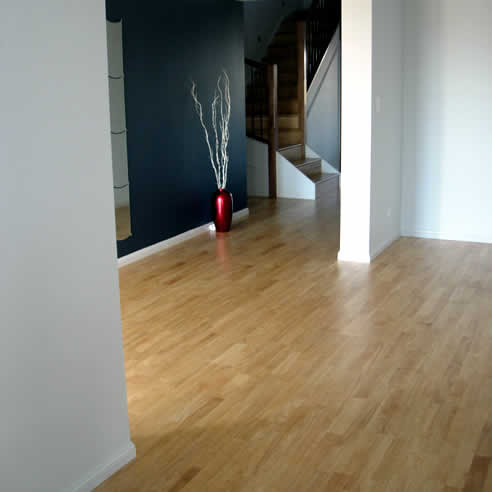 Wood Floor Solutions (Aust), the timber flooring specialists also supply engineered flooring.
Engineered Timber Floors are very strong, pre-coated natural timber of approximately 4mm of solid timber glued to its own sub-floor of usually laminated ply-boards. The product can be laid over virtually any base, provided it is flat and structurally sound. Because they are pre-finished they are extremely stable with a hard wearing surface, and they come in a range of species giving attractive colours and can be laid by the average handy person.
There are many species of engineered floors such as Blackbutt, Tasmanian Oak, Spotted Gum, Kempas, Merbau, White Oak and Hevea, which pictured in this article to name a few. The flooring is available in either a 1 strip, 2 strip or 3 strips across the face of the board. This enables the customer to choose different looks to suit their home, office or shop.
Engineered flooring can be laid in several ways with the most common being "floated" over underlay, with a bead of glue between the tongue and groove. It can also be installed using the "direct stick" method to an existing substrate such as particle board.
As it does not require sanding and finishing it can be installed and ready to be lived on in only a fraction of the time in comparison to a solid hardwood floor. Great for the DIY renovator or anyone that wants a no fuss hardwood floor installed.
Wood Floor Solutions (Aust) has some great specials available for any customer who quotes this newsletter. Why not call our friendly sales team on 1300 787 551 or visit our website www.wfsaust.coom.au to check out some of our great specials.