Timber Privacy Screening Brisbane from Wood Floor Solutions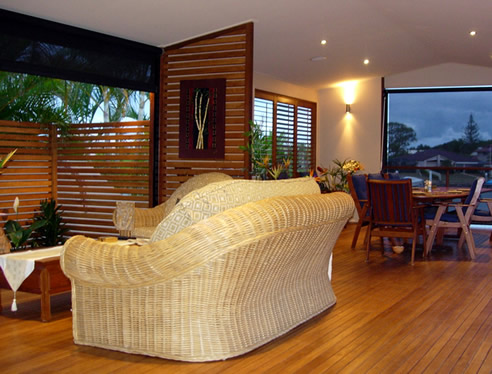 Wood Floor Solutions (Aust) now have set length 64x19mm Mixed Hardwood decking which are ideal to use as privacy screening and balustrade upright inserts (using the 0.9m lengths).
They are perfect for creating private areas in any outdoor space and as inserts in traditional style balustrades such as in old Queenslander homes. Plus you can order our traditional decking to match the privacy screening / balustrade inserts as pictured in the photos.
The set lengths are available in 300mm increments starting at 0.9m, 1.2, 1.5, 1.8, 2.1, 2.4, 2.7, 3.0 and 3.3. This product is available in packs of 64 lengths however packs can be broken into job lots.
Call Wood Floor Solutions sales team on 07 3808 6277 for any other information or alternatively existing Big River Timber customers can call them on 07 3451 8300 to order with your other timber and hardware requirements.