Secure Your Website with SSL Certificates from Spec-Net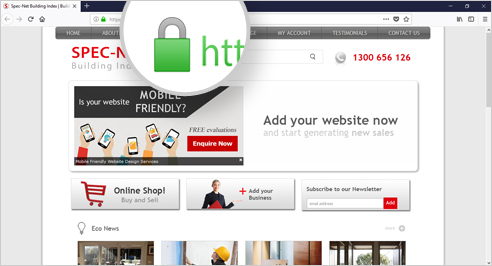 Major search engines such as Google are working harder than ever to secure their online services, and that includes the organic listing of your website! If your website is not secured by an SSL Certificate, it is now possible your search engine position will be subjected to a decrease in visibility, simply because your competitors may be protected where you are not.
This new trend favouring secure websites also impacts performance tracking services and does not exclude Google Analytics. It is vital to ensure your website is secure, and your URL referrers or UTM parameters (insecure to secure redirection) used correctly to accurately track click-through's to your website from external sources (such as Spec-Net!) and more.
To determine if your website is secure, open your website in your preferred browser, and look for a green padlock symbol to the left of your address, e.g. (see above:) https://www.spec-net.com.au. If present, congratulations, your website is secure! If not, contact Spec-Net today and allow us to secure your website for you with our comprehensive SSL Certificate hosting and website development services.