Sealing Natural Stone Pavers, Tiles and Coping from iPAVE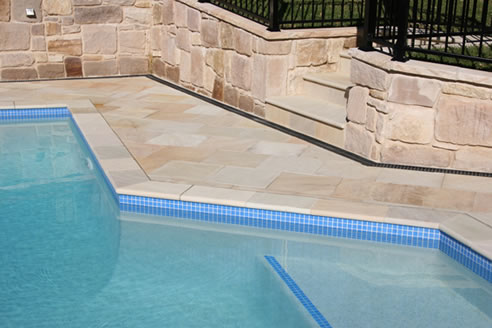 iPave recommend sealing of all product especially natural stone to prevent potential staining, helps protect from harsh pool chemicals. Also, many types of stone contain small amounts of minerals that may oxidize when exposed to the air and cause brown stains on the surface. Although these stains will disappear naturally over time, sealing can prevent them from occurring. Always use a premium quality product, and test on an off-cut prior to sealing the whole area to ensure you are satisfied with the finish.
For most natural stone we recommend a 'penetrating' type sealer that blocks the pores in the stone to prevent staining and marking but doesn't change the appearance of the product.
Below is a simple guide for calculating how much sealer you will need; coverage is approximately 5-8 m2 /litre/coat, if 20m2 of product was laid you would require around 4 Litres for the one coat.
Natural or Matt Finish
1-2 coats of iPave MX 1000 or iPave Penetrator
Gloss or Wet Look Finish
2 coats of iPave Top Coat
Sealing is very easy to do yourself. Wait at least 14 days after your product was laid and grouting to ensure all moisture has left the grout and substrate. Clean the stone thoroughly and allow a few days of good weather to dry the stone completely, two coats of sealer are usually applied with a paintbrush, soft bristle natural or nylon broom or lambswool applicator. Take care to avoid streaking, wait a couple of hours between coats and always follow the instructions on the container.