Spec-Net Reviews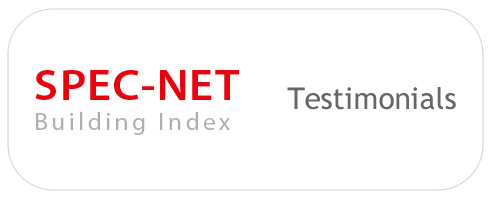 John Sordo - ACO Australia
"ACO Polycrete have worked with SpecNet for over 10 years. In that time, we have found them to be professional and responsive to our needs. In particular, special praise needs to be directed to their web designer. Her attitude and level of understanding has made it easy for us to build our web profile. We look forward to continuing our relationship with SpecNet for many years to come. "
Simon Meyer - Blinds by Peter Meyer
"Blinds by Peter Meyer have been with Spec Net now for more than 15 years and have always found them to be super professional and complete any enquiry with amazing accuracy and timing! They host our website and also do all of the development of the site as well as help keep it at the top of the page for common search words. Their professionalism really has helped develop our business and we look forward to launching our new website with them In the coming months."
The Team at Devex
"Spec-Net has been a great online directory to assist us in communicating effectively with our target market via our online showcases and the Weekly E-News Lounge. They are unique to other online directories in that they produce and edit short product videos for their clients. This allows us to engage with the audience in a more visually appealing and interactive way. Spec-Net has helped our website optimisation as well. When people search for key terms associated with our product lines, our articles and product showcases appear on the first page of Google in a number of instances. This has helped to build brand awareness and direct more traffic to our website. We have been with Spec-Net for a number of years now and also find their customer service to be excellent!"
Roslyn Martins - Universal Anodisers
"Universal Anodisers has had the pleasure of being associated with Spec-Net for 14 years. Spec-Net News provides weekly articles that are both interesting and informative with manufacturers being able showcase new products or provide articles of interest on completed projects relevant to the construction industry. Spec-Net website is a quick and very easy way of sourcing products or companies and updated construction news invaluable to the browser. It also has the convenience of being able to contact a supplier via email for the required information. Universal Anodisers looks forward to many more years of being associated with Spec-Net."
Lara Gleeson - Thermofilm Australia
"Spec-Net has allowed Thermofilm Australia to reach an extended network of clients within the Building and Construction industry and beyond. Utilising the fortnightly online E-news lounge has brought us a dramatic increase in visits to our website and has also vastly improved our Google search rankings. It is also been a great way to share our company and product news. Thermofilm has also utilised Spec-Net's video service which have given us some valuable media resources. Spec-Net is highly recommended for their services." Greg Trezise, National Sales and Marketing Manager, Thermofilm Australia."
Liz Creagh - Breezway
"It was great to see our video on the spec-net newsletter today. We have already had a flood of enquiries come through. Yes it is very exciting! We are all so happy with how the video turned out and even more happy to hear it made 'video of the week'. I will be publishing this in our internal newsletter so we can verbally announce it to our customers"
Trevor Kempster - TBA Firefly
"Signing up with Steve from Spec-Net has proven to be, the most beneficial route to marketing our products and services to potential clients that I have ever experienced in all of my 23 years in the fire protection industry. The hits on our website have increased 10 fold as a direct result of our listing with Spec-Net, in addition to the free fortnightly advertising in the weekly E-News Building Index, we have been videoed and interviewed on our Trade Show Stands as part of their service. Thank you Spec-Net, keep up the awesome work"
Millar McCowan - Architectural Signs
"We have been using Spec-Net for many years and have noticed a substantial increase in the number of enquiries since we started. We make use of all the value added components and all the staff are extremely knowledgeable and pleasant to deal with and we would recommend them to anyone in the industry"
Ross Wilson - Certainteed
"Spec-Net are a great host for our website and David has always been very approachable, helpful and keen to pass on ideas to expose our company to prospective clients. He is backed by his team of Deborah, Stephenie, Amy, Wendy, Kathryn, Talia and web designer Ado. Plus the behind the scene "DJ" Luke. Not to forget the irrepressible Video Man Steve and his bevy of interview girls. You can host your building product more cheaply with others but in my experience if there is a computer glitch or problem you'll need good service and direct access to efficient happy and conscientious staff. We have enjoyed that service since 2001."
John Sherwood - Sherwood Enterprises
"Spec-net Editorials have been great to our product even our performing Google so we say thanks to you & Spec-net and the clientele in this Editorial which also mentions our product expansion & growth in 2010."
Simon Bottomley - EJ
"EJ (formerly HaveStock) has successfully used the Spec-Net service for the last 10 years. We believe that Spec-Net gives us a great opportunity to showcase our many new products to the specifier market. It allows us a forum through which to put the relevant information on our products in front of the architects and engineers who are looking for new ideas and solutions. When Havestock was acquired by East Jordan Iron Works in 2010 and subsequently rebranded as EJ, we used Spec-Net to communicate this important message to the marketplace. With our new and advanced global products (aluminium hatches, hinged covers, lift assist covers, tree grates), Spec-Net has been our chosen launch strategy to the Australian market."
David Faulkes - Decor Systems
"We have used Spec-Net for several years and have found it of great assistance in getting our message out to the design fraternity. Spec-Net articles and newsletters are enlightening, easy to read and is an excellent source of product information and developments in the construction industry."
Lorena Franzin - Austral Clothes Hoists
"Austral Clothes Hoists Pty Ltd has been a Spec-net client for a number of years. Austral relies on our website to function efficiently to keep customers up to date with products and relevant information. Spec-net's Sales and Tech teams have always provided Austral with exemplary customer service."